HyperForex focuses on forex and commodities trading with a mission to provide exceptional client experience with cutting edge technology. This broker's main goal is to pave the way for hyper technology, which provides fast order execution for each lot traded.
HyperForex Security and Licenses
HyperForex is the trading brand of Hyper Global Trade Pte. Ltd. It is licensed to operate and regulated under the terms of the Labuan Financial Services Authority in Malaysia. This license to operate is strictly given solely to STP-only business models.
For the security of the clients, their funds are segregated from the firm's accounts to prevent any financial misuse. Safety of client funds is one of the utmost concerns, so HyperForex guarantees their clients that company representatives will not access their funds for any purpose. These funds are stored in top-tier Chinese and Malaysian banks.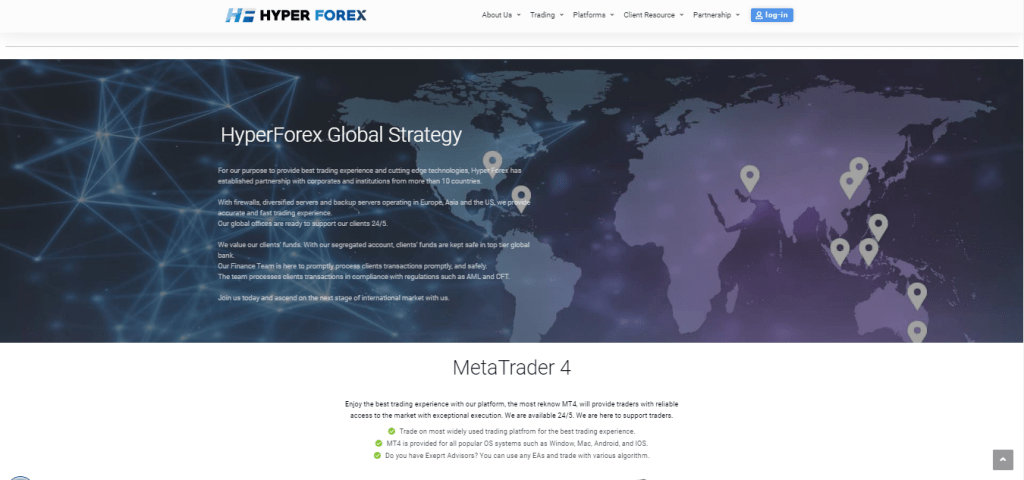 HyperForex Account Types 
HyperForex offers three account types to their clients:
Mini Account
You can trade small lot sizes with a low minimum deposit on the mini account. This one is perfect for beginning traders who are yet testing the markets and for traders who want to explore various trading strategies on low-risk live account trading.
Standard Account
This mid-tier account is great for market players with sufficient experience trading in the currencies market. This account provides a minimum trading volume of 0.01 lot per trade, as well as flexible trading options. With its average level of minimum deposit, minimal risk, and competitive spreads, this is the most sought after choice by both novice and experienced traders.
VIP Account
This account offers the tightest spreads that are recommendable for high volume and active traders. All features are optimized in this top-tier account. You can expect the most competitive spreads and tools that are most recommended for expert market players.
HyperForex Trading Instruments
HyperForex is a six-asset class broker, which means that they offer services in trading currencies, stocks, cryptocurrencies, indices, and commodities, including metals and oil. 
Foreign Exchange
The forex market is a decentralized, over-the-counter global market that trades the largest volumes each day among all the other markets. It's a highly volatile market that is open 24 hours for 5 days a week. HyperForex offers forty-eight currency pairs, including the widely-traded major pairs such as USD/EUR, the cross pairs, and the exotic pairs.
Metals
Metals such as Gold are heavily traded in the markets, especially by large-fund expert traders. The advantage of trading Gold is that it can be a protection against inflation, and it can also be a long-term investment. With HyperForex, you can trade Gold and other metals like silver and copper.
Oil
The energies or oil market is one of the most active and volatile markets in the world. Since it is a standard commodity, it is known by most beginning and experienced traders that are looking to profit out of day trading or even for the long-term. The oil market also has a big impact on other markets, such as the forex market. The US dollar is the standard currency upon which oil prices are quoted.
Stocks
The stock market is the most well-known among all since investors have been trading it for decades. It's an active market whose movement is closely tied with economic events and company performance. It's a good asset to trade and invest in, especially if you're looking for long-term investment. 
Indices
Indices are baskets of cumulative company shares of a certain industry or country. For example, the S&P500 is the index for 500 of the largest companies in the United States. This market is often indicative of the economic state of a country. It is recommended for speculative trading and hedging.
Cryptocurrencies
Crypto or digital currencies have expanded in the recent decade due to the influx of curious investors. The first ever created cryptocurrency, Bitcoin, sporadically grew its price over the years, paving the way for other cryptocurrencies to emerge. It is one of the markets worth trading in due to its popularity and potential growth in the future.
HyperForex Review Conclusion
HyperForex offers competitive trading conditions and a wide range of accounts and assets. It has amassed clients all over the world and established a global presence. It has offices in six locations around the world and boasts over fourteen years of expertise in the trading industry, especially forex. It is also well-regulated and transparent with the security of their clients. It offers some of the tightest spreads and flexible leverages that could go up to 1:1000. It also has a great vision not only for its brand, but also for the whole trading industry with its hyper technology.