Review Pit Bull: Lessons from Wall Street's Champion Day Trader
by MARTIN S. SCHWARTZ

Description
The book, "Pit Bull: Lessons from Wall Street's Champion Day Trader" is a fruit of Martin S. Schwart's life as a Wall Street trader who has seen it all. Coming from the E.F. Hutton as a Financial Analyst, the author upped and left the firm and decided that he would be well off in the American Stock Exchange. This book is a testament to his expertise in trading S&P Futures.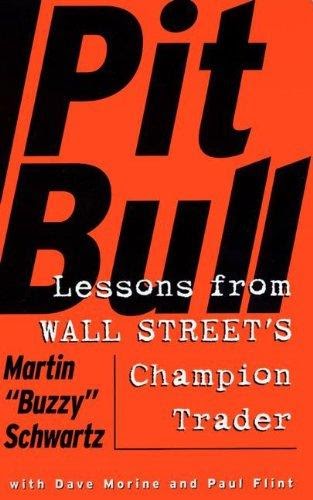 The book details how one can easily get into a trade and out of it when it turns sour. The author instructs that one should not hold on too long on a financial instrument; he only holds on to it for a day.
The book had been written in such a way that the readers are able to understand the otherwise technical-sounding terms. The entire material is a narrative that feels personal, like someone telling a story that you simply can't wait to unfold.
Readers agree that the book is funny and relatable. While this is the case, there are readers who think that the contents within the book are a rehash or simply a different packaging of trading truths that mainstream thought already knows.
Nevertheless, the approach of the book and the language are considered gems amongst the existing trading literature.
About the Author
A Wall Street trader, the author, Martin S. Schwartz, made a living out of trading stocks, futures, and options. He became popular when he won the U.S. Investing Championship in 1984.
Table of Contents
Acknowledgements
Trade or Fade: Mashed Potatoes
The Plan: The Grubstake
Paradise Island: Viva Las Vegas
The Great Pyramid: Inside Skinny
Auric Schwartz: Going for the Gold I
Made to Trade: Switch Hitting
Never Short a Republican: The Losing Streak
Champion Trader: Honor Thy Stop
Little Brown Bags: To Thine Own Self Be True
Lots 204 and 207: Big Shots Make Big Targets
Going for the Gold II: Sitting Down by the Lake, Waiting
Commodities Corp: How I Read the Wall Street Journal
Sabrina Partners
How's My Money Doing?: Sorry, Dad, You're Fired
Down the Tubes: Two Lessons for Life
Night Fighting: Money Talks, Bullshit Walks
The Best Trade
The Pit Bull's Guide to Successful Trading

My Typical Day

Index