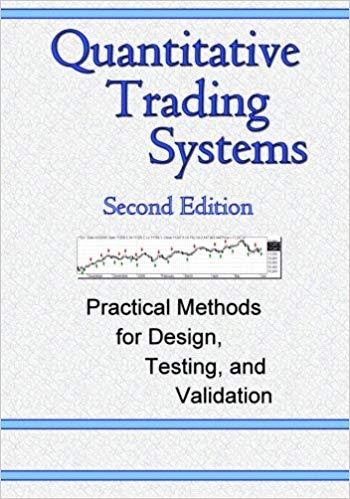 Description
The book, "Quantitative Trading Systems: Practical Methods for Design, Testing, and Validation," effectively provides both a theoretical and practical method in trading. This does it through Amibroker, a Technical Analysis Software that allows for Portfolio Backtesting Software, Walk-Forward testing, and such.

While possessing a nebulous title, "Quantitative Trading Systems" is a purposeful book that appears to be a comprehensive introduction to AmiBroker.

Despite zeroing in on a specific aspect of Quantitative Trading Systems, the book is well-written and extremely helpful. It contains a discussion on position sizing and risk management.

Readers agree that the material is not necessarily a trading book, but a systems trading book. Taking it from this lens, then the book is something that traders should have if they would want to know more about:

The AmiBroker software
Trading Systems development
The book helps its readers understand trading systems better and walk them through searching for their respective edges.

However, it must be noted that the readers are split as well when it comes to the author's language and his actual expertise. This had left the book open to interpretation.

About the Author
Howard Bandy's passion is studying as he finished several degrees, including in computer science, engineering, physics, and Mathematics. He served in the academe as a professor and dean. He is a computer programmer as well and designed commercially successful computer programs. He writes books, speaks at conferences, and advises to trading firms and independent traders.
Table of Contents
Preface and Introduction
1 Quantitative Analysis
2 Data
3 Trading System Overview
4 Measuring Success
5 AmiBroker
6 Issue Selection
7 Entries and Exits
8 Functions and Indicators
9 Trending Systems
10 Mean Reversion Systems
11 Seasonality Systems
12 Pattern Systems
13 Anticipating Signals
14 Sector Analysis
15 Rotation
16 Portfolios
17 Filters and Timing
18 In-Sample Out-of-Sample
19 Statistical Tests
20 Walk Forward
21 Survivor Bias
22 Monte Carlo Analysis
Appendix A Extending AmiBroker
Appendix B Glossary
Appendix C Resources
Index