ActivTrades PLC is one of the many financial solutions firms that offer access to major markets such as foreign exchange, indices, cryptocurrencies, commodities, and shares. Originally, its office was located in Switzerland when it debut in 2001. Four years after, the company moved to the United Kingdom.
The company started with foreign exchange as its primary service and after years of expansion, it now provides over a thousand Contract for Difference across six asset classes. It also has a relatively large scope as its services are made available in over 140 countries.
The company prides itself for its optimum technology since this is the very foundation of its trading structure. More so, it has a development team that ensures traders are equipped with proper investment conditions. As the company strives to provide the best trading experience, it has garnered different industry awards and recognitions. For one, it was hailed as the 90th fastest growing financial firm in the United Kingdom.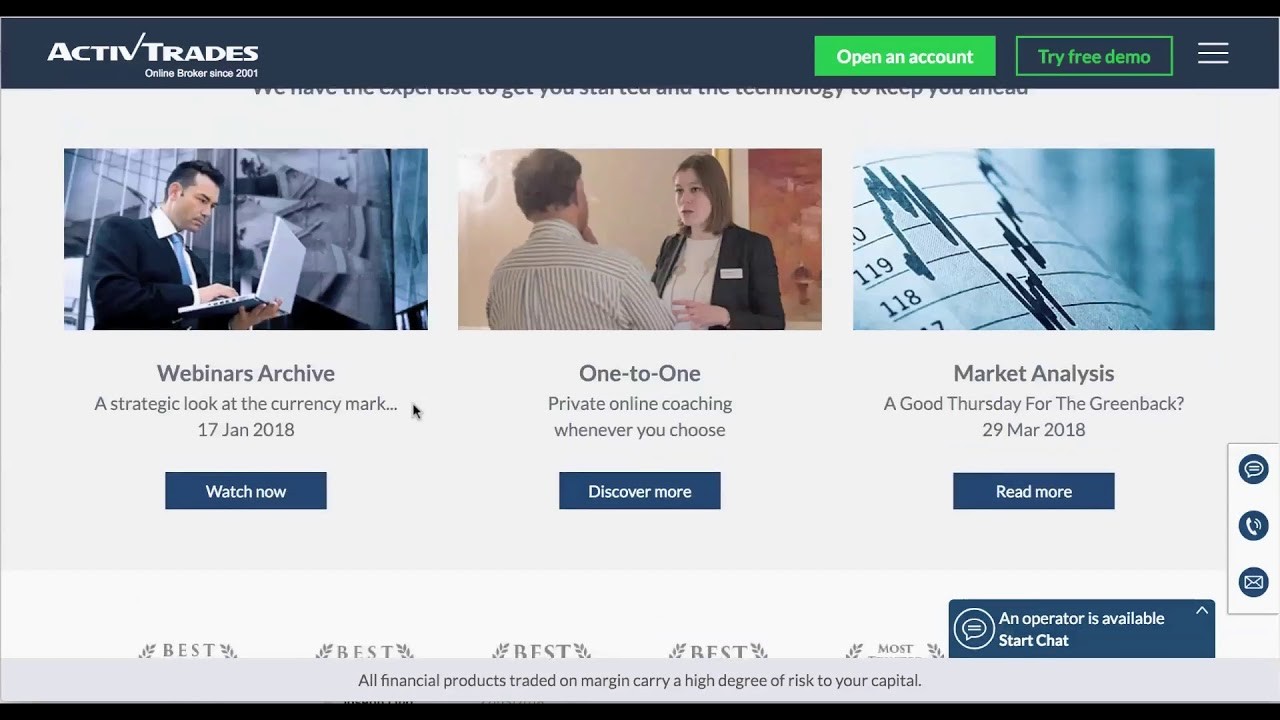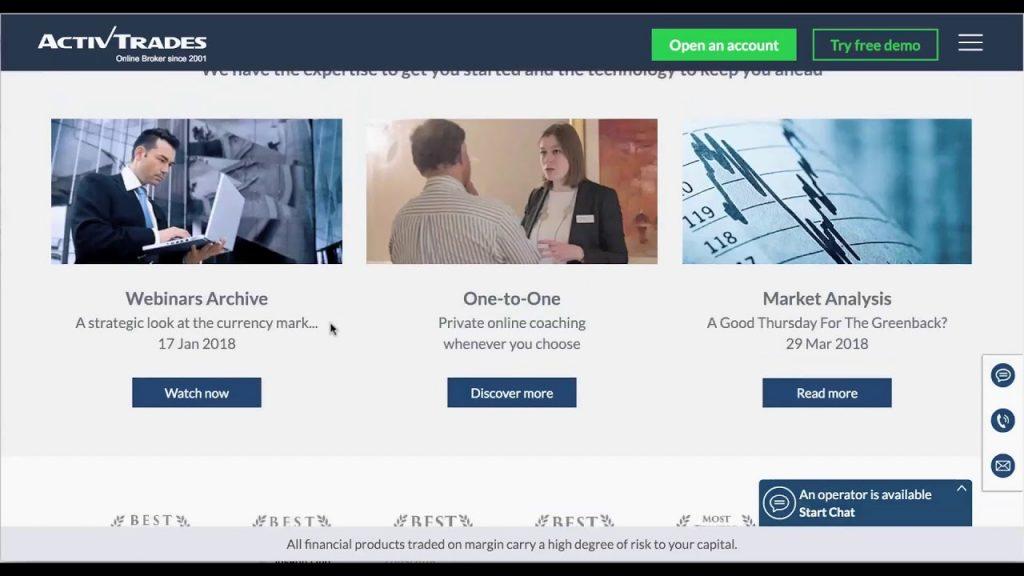 ActivTrades Regulation
One does not have to worry about the legitimacy of ActivTrades since its operations are closely monitored by the Financial Conduct Authority of UK. The company also managed to file its leg offices under corresponding regulatory bodies. Its office in Milan is registered under the Italian Companies and Exchange Commission, while its subsidiary office in Bahamas is regulated by the Securities Commission of the Bahamas.
The licenses given by these authorities guaranteed that all operations are executed under legal terms. These also ensure that clients' funds are well-segregated and tightly secured. UK-based clients are protected by the Financial Services Compensation Scheme, giving a total compensation of 85,000 euros for any anomalous activity monitored.
Another thing that makes ActivTrades a safe broker is its Excess of Loss policy, granting clients insurance worth 1,000,000 euros for its UK clients and 1,000,000 dollars for clients residing in other countries. More so, retail traders are secured as they get a Negative Balance protection to protect their funds from potential financial wipeouts.
Account Type
What appears to be a setback is the lack of diversity when it comes to account selection. Far from the industry-standard number of accounts offered by a brokerage, this broker provides only one standard CFD account. While this is the case, the company still compensates for it by providing an unrestricted deposit rate.
For clients who reside in the UK, there is an additional account dedicated for spread betting. This is a tax-free account that can be converted to a professional account. Though there is a difference mainly from different policies, trading conditions are still similar. More so, everyone is given the opportunity to open a demo account for mock trading.
Trading Platforms
For clients who previously traded using the MT4, ActivTrader would come more visually appealing for them. This is mainly from the minimalist interface that makes trading easy and comprehensive. But even if it is wired with the most favorable features, the absence of automated trading has created a trading experience exclusive only for manual traders.
If users want to use other platform, MT4 and MT5 are available. What's interesting about this is that both systems can be upgraded into an optimum portal through a feature called The Smart Tool. More so, these can be further personalized as external plug-ins are available for use. It is important that traders segregate their trading profile while utilizing ActiveTrader and MT4 together in order to increase the margin of profitability. That way, clients get to enjoy the platform to its extent.

Additional Features
Extra Add-ons-

As mentioned above, ActivTrades' platforms offer additional plug-ins to compensate for missing features such as automated trading. These add-ons, the Smart Tool for example, are proven to be effective especially for retail traders who have inadequate resources.
Education and Research-

Insights are regularly provided by a dedicated team of foreign exchange analysts. There are decent contents that ActivTrades takes pride in including the individual trading session for novice traders. Other educational materials include a video gallery filled with lessons about the fundamentals of trading. Webinars are also available for intermediate to advanced trading education.
Intensive Customer Support-

In an attempt to render an active communication with it clients, ActivTrades has provided several media for queries. Its customer support is available for 24/5 through live chat, email, and telephone hotline. In its official website, an FAQ section aims to attend to basic queries, while a glossary is provided to cover trading terminologies.
Conclusion
While this broker has minimal setbacks including its standard account, it still is a decent brokerage firm. It also managed to provide additional features to compensate for some of its systems' inadequacy. Its untapped potential only made this broker one to monitor when it comes to future innovations. Overall, it functions under legal conditions and has generous conditions, making it worthy of one's investment.