JustForex, a foreign exchange brokerage platform operated by JF Global Limited, offers retail trading as its flagship service. It was established in 2012 and is located in St. Vincent and the Grenadines. While it managed to register itself under the Financial Services Authority (FSA), it does not hold any strong regulatory oversight since the agency allows registration without strict requirements.
Just like what is stated on its official website, JustForex maintains user engagement by providing generous bonuses. In fact, it claims to register new user every eight seconds. Apart from its exciting promotions, its tight market traction could be attributed to its six core features- competitive spreads, flexible system, diversified trading instruments, impressive leverage, wide trading strategies, and unrestricted order execution.
More so, the company prides itself with a platform that keeps users' fund secured and well-segregated. Trading with JustForex, regardless of structure, guarantees larger margin of profitability and success as its system is injected with intensive liquidity from 18 international banks. The aforementioned features had been made available in 197 countries, making JustForex a global market-maker.

JustForex Account Selection
According to its site, clients may select from its three commission-free accounts- the Standard, Pro, and Raw. It also offers one raw spread alternative for clients wanting to trade without spreads. Moreover, these accounts may be converted into a Islamic account if you happen to be a client that complies with the Sharia Law.
Clients who want to subscribe to the Standard account are required to deposit 1 USD. For such amount, wide selection of currencies may be enjoyed including USD, EUR, KWD, CNY, and ZAR. The account's leverage also comes advantageous as it may be utilized at a maximum ratio of 1:3000. Much of the features available in the Standard account are also provided in the Pro account. However, the Pro account requires a deposit worth 100 USD.
Similar to the Pro account, the Raw Spread account also requires a deposit worth 100 USD. While both accounts are similar when it comes to fees, the Raw Spread is a commission-based account that functions through 3 units of the base currency for each lot. Apart from that, all of this account's features bear similarity with other offered accounts.
Assets and Platforms
JustForex offers an impressive asset selection of over 65 currency pairs, seven virtual coins, ten commodities, 65 equities, and 11 index CFDs. The company also provides 25 futures contracts, completing its asset selection in six different categories for a total of 183 financial instruments. This selection comes sufficient for those who engage in retail trading and for traders with minimal asset in their portfolio.
Since JustForex is a MetaTrader-powered system, all the aforementioned assets can be traded using the MT4 and MT5. Both platforms are widely used within the trading industry mainly because of their simplicity and comprehensive interface. The only downside that this firm carries is the absence of third party plugins to enhance optimality and boost trading experience. However, clients may still use MQL5 Signal Trading if they want to engage in social trading.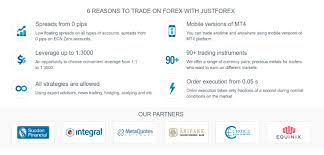 Additional Features
Research and Education
This aspect is impressive since JustForex provides education-related materials for six different sections regularly. While research contents are brief, they are supported with charts and graphics for a comprehensive written analysis. Webinars are available and the platform provides a built-in library that houses hundreds of trade-related articles. Videos are scarce but they can still facilitate an authoritative discussion about trading fundamentals.
Customer Support
JustForex's customer assistance never lags behind the industry standard since it is available 24/7. Clients are provided with active lines for queries including e-mail, phone, callback, messenger services, and the most impressive, live chat.
Promotions
As mentioned above, what keep the engagement of clients is its generous bonuses and promotions. Currentlly, JustForex offers up to 200% bonus depending on conditions. All of the necessary details and qualifications are provided on its official site and clients are suggested to read the terms before confirming promotions.
H2- Conclusion
Taking into consideration all of JustForex's features, it can be concluded that this is a decent brokerage firm. While there are still aspects to that need improvement, its diversified asset selection, comprehensive platform, and generous bonuses make it one of the leading brokerage firms that deserve a sound subscription.