TD Ameritrade is a financial services provider that offers a wide range of services, features, and tools to clients in the United States and more. It prioritizes a technology-rich experience above all, attracting many professional traders.
TD Ameritrade Regulation and Security
TD Ameritrade was founded in 1975 in the United States. It is a publicly listed company under NASDAQ that provides trading services to more than 13.2 million client accounts. It reports an annual asset filing of $1.3 trillio. Most of its clients are forex traders, with roughly 52,000 funded accounts as of the first half of 2020.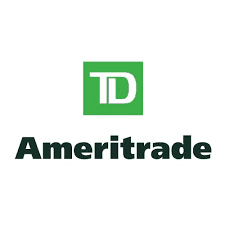 TD Ameritrade is considered safe and low risk by most broker reviewers. It is among the few brokerage firms that are regulated and offer retail forex trading in the United States. For clients and reviewers alike, TD Ameritrade has a trust score of 98 out of 99, making it extremely secure and reliable.
TD Ameritrade Futures and Forex LLC is registered and regulated by the Financial Conduct Authority or FCA and the Commodity Futures Trading Commission or CFTC. It also abides by the regulatory standards set by the Investment Industry Regulatory Organization of Canada (IIROC), the Monetary Authority of Singapore (MAS), and the Securities Futures Commission (SFC). Overall, TD AMeritrade operates under the regulation of five tier-1 regulators, guaranteeing that t is a high-trust broker.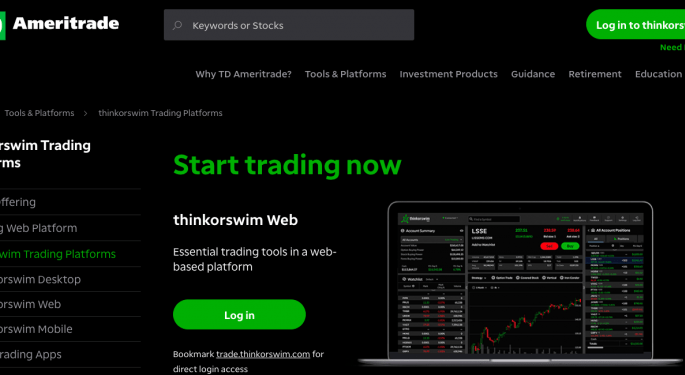 TD Ameritrade Platform Services
Arguably the strongest feature of TD Ameritrade is its trading platform, thinkorswim. It is a desktop and web-based platform that guarantees quality forex trading experience. It is equipped with high-grade tools and indicators, and has been recognized as The Best Desktop Platform for 2020 by reviewers.
thinkorswim (desktop)
This platform might take a few days to learn, but its range of tools and indicators makes it a worthy choice for investing. Still, the interface is organized and offers a streamlined trading experience. There are 73 currency pairs to trade with the help of 348 technical indicators, the highest number in the industry. There are also 77 indicator-based strategies, as well as advanced desktop charts. The desktop version of thinkorswim platform has been awarded as the best forex trading platform in 2020.
thinkorswim (web)
This web-based version of the thinkorswim platform is TD Ameritrade's latest feature to add in its services. It has lighter features and tools compared to its desktop counterpart, partly due to it non longer having to be installed. This platform, though limited compared to the desktop version, still offers a quality trading experience. It is equipped with 11 technical indicators, the opportunity to trade options on forex futures, default strategies, and advanced tools.
thinkorswim (mobile)
This mobile platform is packed with a wide range of advanced features, including complex order types and advanced charting. It is equipped with more than 300 indicators that are used to create custom watch lists, and has a user-friendly and streamlined interface. When it comes to charting, thinkorswim's 300+ indicators are easily insertable into charts. This mobile platform also offers the "Blast All" order type, which lets you set a multi-legged position simultaneously. It is useful for advanced strategies for both short and long positions. The thinkorswim mobile platform is available on Android and iOS.
TD Ameritrade Research and Education
TD Ameritrade was hailed as the best provider of research tools in the 2020 wrap up of broker reviewers. This is because the broker provides a competitive range of tools and analytics, as well as a variety of content.
Trading Articles
TD Ameritrade's expert team, as well as the third-party service providers it has partnered with produce various articles on the fundamental and technical analysis of global asset classes. It also produces daily market news headlines and market insights. Most importantly, its economic news category covers monetary policies, which is a determining factor in daily forex trading.
Social Content
TD Ameritrade offers integrated chat rooms, including a global forex chat channel that lets forex traders interact with one another and share insights. Furthermore, this broker has a Social Signals service which identifies the market sentiment through generating data from Twitter. Through this, determining sentiment has never been easier, and even traders will only need to view a chart to see whether the sentiment for a particular asset is positive, negative, or neutral.
TD Ameritrade Conclusion
TD Ameritrade is a safe, reliable, and competitive brokerage firm that offers traders in the United States and elsewhere a quality forex trading experience. It offers a terrific range of services, including a high-grade platform that is suitable to even the most expert of traders. It also offers a wide range of tools that are great for equities and options trading, and overall provides high-grade services to professional forex traders.